Cortopia Studios – 11:00, November 3rd, 2020 PDT: VR spellcasting game Wands receives one of its biggest feature updates today with the "Wand Powers Update" (patch 1.8.0). This new update includes a feature change to all wands. We've also crafted five new arena-themed wands that have powers unique enough to match their marvelous designs. We are also adding a new character and a shipload of feature improvements.
With the help of player feedback, Cortopia adds the "Wand Powers" feature, changing the very nature of the wands themselves. This increases the range of choices and implications of loadout combinations. The update is now available on both Oculus Quest and Oculus Quest 2, Steam VR, the Oculus Rift Store, Viveport Infinity, and coming soon to PlayStation VR.
Wand Powers
Each wand will now have its own unique features to make players more powerful. This greatly boosts the significance of the wands beyond the aesthetic. Wands will have between two and three properties, some of which are a double-edged sword.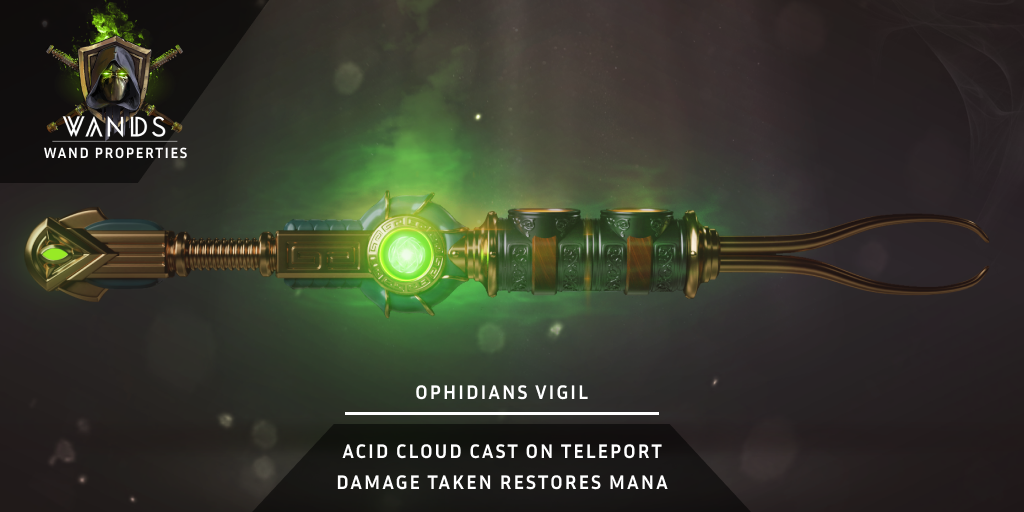 Now with a total of 15 wands to choose from and countless loadout combinations, players can choose whether they want an offensive wand such as The Inductor for an electrifying playstyle, or a more forgiving wand such as The Classic.
"The new wand powers add an extra dimension of fun and strategy to the game. Some of the wands will offer simple bonuses, and others will provide the opportunity for innovative playstyles that have never been seen in The Beyond. All players will benefit from this update, even if they never change their currently equipped wand. The five new wands that we've added to the game are as interesting as they are beautiful, since they possess some of the most unique powers on offer. We've balanced every wand so the ones you choose are a matter of preference, not an easy path to victory. With this update, we're happy to finally make the wands a bigger part of Wands!" says Elliott, QA & Community Manager at Cortopia.
Five New Wands
In addition to adding unique powers to each wand, we are also adding five new wands to the game: Aspis Claw, Ophidian's Vigil, Celestial Spine, Ortus Armament, and Dead Master's Staff.
New Playable Character: The Templar

We are excited to introduce The Templar into The Beyond. The Templar has been long awaiting her entry to The Beyond. After failing to hide her gender from the members of the brotherhood, she finds herself banished from the knight's order. Having been driven near madness with spite she relinquishes her god to make her way into the beyond where she can prove her worth in battle. In the spirit of the select few this elite warrior is only attainable by the top three players in an event that occurs approximately once a month. This means that the character can not be bought but has to be earned by attending this event.
1.8.0 Patch Notes:
New Features
Wand Powers: Wands have new and unique properties that make you more powerful
New Wands: 5 brand new wands have been added to the game
New Character: The Templar has entered The Beyond
Improved Features
New AI difficulty: An "impossible" difficulty setting has been added
The Crystal Wand is now unlockable
New titles have been added for reaching skill ratings of 2600, 2700, 2800, and 2900
Each loadout can have a different set of wands
Current HP and Mana are now shown on your HUD
Notification icon appears on blackboard when you have unclaimed rewards
Event points can not be earned in friendly duels or against the AI
Level text is displayed in Lobby
All locked wands are shown at the Wand Station
Seasonal match count is displayed in-game (will become visible next season)
Teleport beacons at Relic Bench and Wand Station are shorter to make interaction easier
Snap turning delay has been increased, making accidental double turns less likely
AI matches cannot occur on Sanctum, preventing gas and sandstorm deaths
Game Balancing
Dual Wielding pickup collection time reduced to 3s (down from 3.5s)
6DoF mana regen rate increased to 13/s (up from 12/s)
Flaming Phoenix – cooldown increased from 0.75s to 1.5s
Chilling Clutch – cooldown increased from 0.5s to 1s
Skull Specter – cooldown increased from 0.0s to 1.5s
Skull Specter – height raised to prevent firing into the ground
Armor of the Sun – cast cost increased from 50 to 75
Curse of the Undead – cast cost increased from 40 to 50
Bug Fixes
Summons' projectiles no longer pass through the Warden's arm on Aspis Prison
DPS damage does not immediately disappear from HUD
Electric Fist no longer causes significant framerate issues
Tile-based spells cannot be cast through the trains' flat cars on Ortus Station
Haptic feedback on one hand is not interrupted by haptic feedback on the other hand
Opponent's voice is no longer audible when they're muted
Casting Chaos Leap while teleporting no longer prevents further teleporting
AI does not glitch on bottom tile of Aspis Prison
Devil's Spit can no longer be fired from your previous location
Titles for Season 17 and up have been added
English text for Season 16 titles has been fixed
Teleport no longer fails when it's the first spell selected when using the Point control scheme
It is tremendously exciting to be able to add this much new content in one update, being over 58 updates in. We spent a lot of time figuring out what we could do to allow for more competitive gameplay without breaking the balance. Considering the feedback from our beta testers, we think we did right by our players.
See you in The Beyond!